So thought of posting this on here, a few years back I got a silver Bozak CMA 10-2DL from roughly 1976
It had 3x newer style phono boards brought from John K and also a booth output card but no actual booth out modification (also from John K) the previous owner told me.
The rest were all original old boards I.e. the summing amp, eq, 2x mic amps and main output boards.
All the pots were original Allen&Bradley but was told they were all pretty scratchy and the seller also sold me 8 NOS ALPS RK-40's for a pretty good price (later Urei style pots)
The mixer got here in the UK all well and I have to say I was super pleased with FEDEX, the import duties were minimal.
The Bozak wasn't in bad shape considering it's age but it did need all the pots doing as mentioned and at least the PSU caps replacing just for peace of mind but I sat on it for ages without doing the work and just using it like it was mainly as I was too lazy :-D
So one day I managed to get in contact with Buzzy Beck who was absolutely brilliant in helping me out and here's what happened.
The plan:
To replace all the pots, re-cap the PSU, clean the cue switch, replace the knob caps as they were beat up and looked bad and replace the pilot lamp with a newer style one.
I originally wanted balance pots with ones that had centre detents but Buzzy didn't recommend it and also recommended that I didn't by-pass the balance pots. Here is what he said on that;
"I do not recommend the centre detent for two reasons. Yes they have a stop for centre feeling but the stop when centre with the face plate at 12:00 may not actually be equal balance.
The balance pots should be electronically centred as we did with every mixer. This means the pot when looking from the rear of the face plate may not be equal looking on both sides physically.
I have installed this option for customers who want it done but to do it right and not just stick a pot in takes time. The centre detent if installed correct may end up with different value resistors on the left and right side of the pot. I have never seen anyone take the time to do this correct. I have received mixers that these were installed in and the balance as much as 15% off.
I never suggest eliminating the balance pots for two reasons. Mainly you loose the ability especially in vinyl to equal out the right and left channel on a recording when needed. You must also properly load the input internally with a 51-68k resistor that should be select fitted with a oscilloscope. "
I went with Vishay capacitors for the PSU, Buzzy also gave me a new rectifier.
4x A/B Mod Tone Pots
1x Later style pilot lamp
4x RK27's for the balance pots (Linear taper)
Knob caps, bushing adapters, ground bus, resistors, wire etc
Regarding re-capping the whole mixer Buzzy said
"I am not a replace all capacitor person. The original Frako brand were the Rolls Royce of the day and though some in the voltage filtering circuits may need attention I have found very few problems with them in the audio signal chain over the years. If the mixer sounds good chances are the audio signal capacitors are still working properly. I would suggest the power supply card being freshen up if you keep the original type power supply "
I also spoke to Geoff Frost of Sound Techniques fame and he was also of the same opinion regarding re-capping.
Notes on replacing the pots
One of the first issues some one may encounter when wanting to refurb a Bozak is replacing the pots.
This is because as I found out there is more than one kind of RK-40 and the ones fitted to Bozak's differed from the ones you might buy on ebay or for the Urei.
One of the most noticable differences is that the Bozak Rk-40's have eyelets instead of solid pins where you solder on to, this makes fitting them in the Bozak slightly more fidley but isn't a major issue.
Other small things are the a slightly different taper and cycle life but the most important one is the following one.
The Bozak RK-40's have a different bushing size to the others, to put it very simply the ones on the Bozak are bigger and thus the face pannel has larger holes cut out whilst the non Bozak ones are smaller so you won't get a propper fit.
The A/B and Bozak Alps pots have a .250 diameter shaft or 1/4 inch bushing and the UREI and later Alps have a .235 diameter shaft or 6 mm (M8x0.75)
Mostly everybody thinks that other than the solder pins instead of loops they are the same but they aren't.
Thankfully Buzzy supplied me with Bushing Adapters so all my pots would fit well.
And now a little history, here is a great email from Buzzy on the development of the RK-40 "Black Beauty"
"Forgot to tell you that back in 1978 Shelly who was the head design engineer went to Japan for three weeks and with Alps designers developed the RK40 for Bozak use. The first run was for 10,000 pieces and that was used up in about three years. Bozak owned the rights exclusively for five years and then left it expire even though they continued till 1987 to buy and produce Bozaks custom designed RK40 potentiometer. Around 1983 UREI made a few changes and picked up the design and put them as replacements in the production of the UREI 1620 mixer for the earlier Nobile brand they were using. And yes Rudy at one time had lots of stock in Allen Bradley that his wife retained but he was pretty much out of the company by 1975 or so no matter what you may read or see on the big so called Bozak web sites. The reason the pot was designed was because the mixers and mixer/amplifier combinations were designed mainly for studio microphone or broadcast use. When the D and DL came about for disco and club use the input pots were being turned several hundred times a night and they were designed originally as a premium control for less used microphone level adjustments. The problem was that the carbon wipers wore out very quickly. The mixer became somewhat a standard and something had to be done to eliminate so many units requiring potentiometer replacement. The pot Shelly had designed was an adaption to a military style Alps was producing for overseas use. All the misinformation that is out there from some of the so called large Bozak web sites would have you believe the Japan CMA designed everything but this is so far from the truth. The Japanese CMA may have helped designed early units but had nothing to do with the D or DL series and up production mixers. Ironically the company who was involved with the D and DL mixers had the same CMA initials and that is where confusion comes in. The other CMA that 75 year old Shelly and others besides myself remember was a small German manufacturer in Connecticut that helped with in house design and production. The CMA stood for Commercial Manufactured Audio and would more likely be accurate when you consider the mixer had Frako and so many other German engineered parts internally. Also Shelly became part owner with the first initial sale and was head electronics engineer prior to that. He like me get a laugh and will admit there are so many story's out there that have no factual background at all. They are exactly that just story's and it is a shame that so many people try to take credit for something they were not even involved in. Another fact is that as a young man graduating high school in the mid 1950s Shelly personally knew Rudy and the family and had no idea that 20 years or so later he would work for him and become partners in the initial buy out. I became involved with Shelly and the Bozak company a bit later and although age is creeping up we still talk to each other on a regular basis. Shelly is now head engineer for a company that produces and builds custom microphones and conference room equipment."
Notes on the summing resistors
When replacing the 4x mix pots I also replaced the summing resistors, Buzzy supplied me with either 51k or the standard 47k resistors shown on the schematics.
Regarding this he said "for the last 15 years or so we decided to go with the 51k because they seem to sum a bit better and when using older and slightly used pots they help to keep channel bleeding down on rebuilds. We just use them as standard now but you are safe going either way with new pots. "
I went with the 51k's
I've seen on here people keeping the originals saying it changes the sound and not to change them for new metal film resistors.. Can't say me or Buzzy believe it much so I replaced them with fresh resistors.
Notes on wiring+soldering etc
It is worth mentioning none of this work should be carried out if you have never soldered before, the boards are very fragile and the tracks can be ripped off very easily if you don't know what you are doing.
Soldering the resistors and bits on the pots is tricky if you've never done this before and I wouldn't like to see any one ruin their mixer.
Regarding the wiring of the front pannel etc as Buzzy said just copy it, it's a good idea to take lots of pictures and also draw a wiring diagram so you don't get lost.
Replacing the knob caps is easy, I posted few years back how I did it on my Urei 1620LE here on wave.
Process of doing
Before doing the big repair i.e. replacing the main pots it's best to do the easy stuff.
That is replace the tone pots first as it's pretty straight forward, check everything is ok then re-cap the PSU making sure to check it's ok after doing it.
You can also replace the knob caps now albeit I left that last.
Once all the easy stuff is done you can go and start tearing the mixer down.
Can't think of anything to add at the moment.. So here are some pics
The OG Bozak as I got it..
The re-capped PSU
The newer style replacement tone control MOD pot next to the original one that I took out the mixer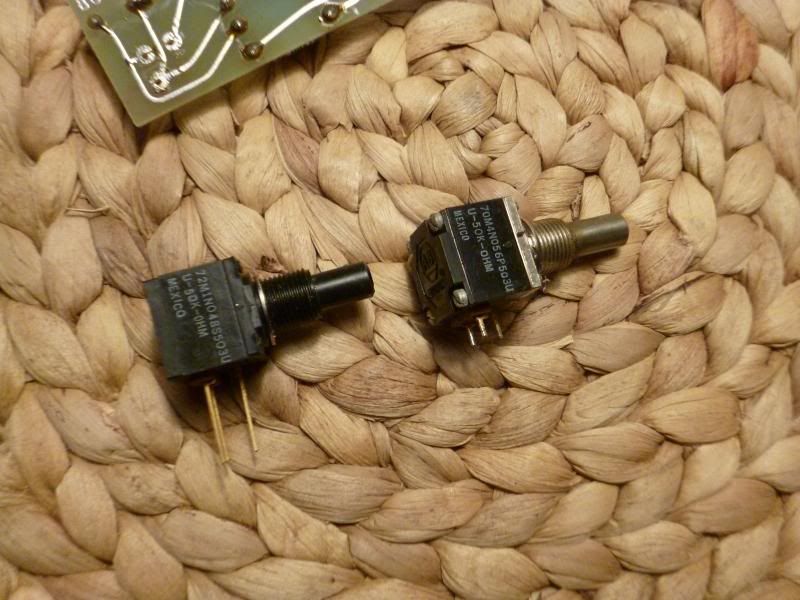 One of the tone control boards with the pots removed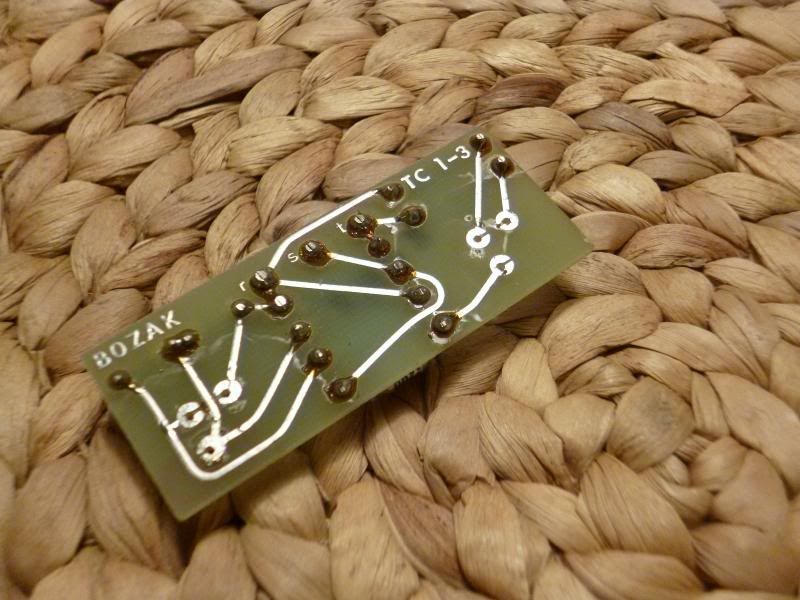 RK-27 and 40
Wired RK-27's
RK-40 mix pots with the ground bus bar and summing resistors