>>>>>>>>>>>>>>>>>>>>>>>>>>>>>>>>>>>>>>>>>>>>>>>>>> >>>>>>>>>>>>
IT'S FINALLY LAUNCHED!!!!!
Higher -
Jesse Saunders, Cassandra Lucas
OFFICIAL VIDEO
...see it at
YOUTUBE
STREAM
Higher -
Jesse Saunders, Cassandra Lucas at
SPOTIFY
PICK UP
Higher -
Jesse Saunders, Cassandra Lucas at
TRAXSOURCE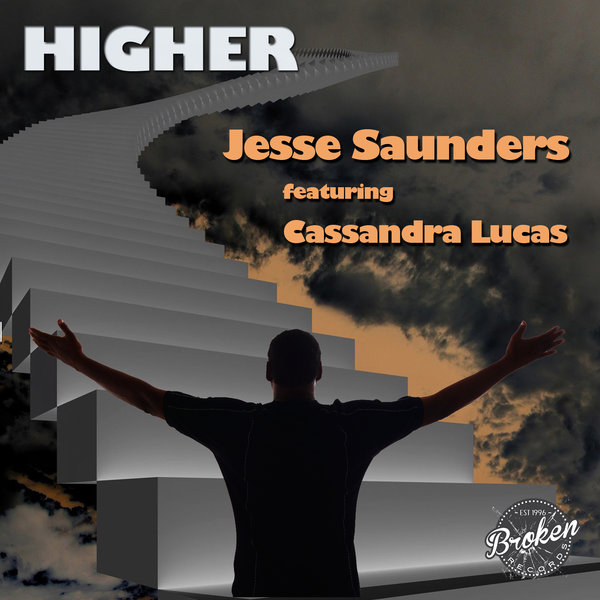 HIGHER - JESSE SAUNDERS ft Cassandra Lucas
Broken Records is proud to present a collaboration between Changing Faces own Cassandra Lucas,
Producer extraordinaire Michele Chiavarini and the Originator of House Music,
Jesse Saunders!
The Originator is back again, this time to take you HIGHER!.
Known as the "Originator" of House Music, Jesse Saunders wrote, produced,
performed and mixed the
world's very 1st house record "ON and ON"
on his upstart record label Jes Say Records out of Chicago in 1984.
For the REMIX package, Jesse brings together the best Remixers who are the sound architects of today's clubs,
mix shows and radio including the multiple #1 Billboard charting Cristian Poow, Traxsource's most prolific Remixer DeMarkus Lewis, Canada's rising star Veev, Chicago's own Jerome Baker, Ricky Pellegrino from Italy and up and comer Keytone! The remixes cover the most popular genres including booty shaking House Music, Deep, Progressive, Tech House and Deep Tech. It's the Anthem of 2019!
Jesse has gathered some of the best contemporary remixers around to add their unique touches to this floor filler: They include:
Multiple #1 Billboard charting Cristian Poow: His Club Mix is a main room stomper that has plenty of wobble bass to drive the dance floor crazy.
Traxsource's most prolific remixer DeMarkus Lewis: A deep moody house mix which does not disappoint. Demarkus knows how to craft a deep house monster and this ticks all the boxes.
Veev: one of the most prominent house music producers from Canada, throws down a fat, chunky slab of funky House that builds and drops the winding vocal through an eternal bass-loaded journey
Chicago's very own Jerome Baker: He applies a soulful torch to the release whilst maintaining a driving melodic bass to take everyone along for a spiritual ride.
Ricky Pellegrino from Italy produces a deep tech vibe which will have those dark corners in Berlin and elsewhere rejoicing.
Lastly and by no means least, up and coming Chicago producer Keytone: He provides plenty of spacey disco effects to the track to take you to the moon and melting your feet with a saw-tooth bass on re-entry.
lBrokenRecords.us/DontFixItMusic.com
in association with Universal/
InGrooves.com
.
PRESS:
Paul Johnson
"Love it!"
Gene Farris
: "Demarkus Lewis Deep Remix is a great Summer vibe...great vocals!"
Gene Hunt
: "I'm totally feeling this jam.. good work! I'm going to bang this !!!!"
Lady D
: "Magical and catchy vocal tune--I have been humming the melody since first spin.
All the mixes have great production value--nice chords on the original,Veev's remix provides room for long blends, and Demarkus always brings the deep vibes. This is definitely going to be my summer anthem!"
Alanna Luna (KMKR-fm/NW Leaf Mag)
: "The combination of Jesse Saunders & Michele Chiaverini's driving, funky, beats with Cassandra's sultry voice creates a sound perfect for the dance floor and radio!"
Norbert Borchers (House Sound of Hamburg)
:"The Higher mixes have been running in the background one after the other. This is not a good single and remixes.... THIS IS DOPE!!!!
I really, really like it a lot. For me a quality house song. I will be debuting and featuring these mixes live on air consistently."
Carrie Lucas (70s Disco Diva)
: "Heavy bass...driving rhythm and Cassandra's performance.. love it! That will get them up on the dance floor!."
Tommy Ballman (Ridiculous Records)
:"Jesse Saunders does it again! I enjoyed all the remixes as well as the original. Each track will fit perfectly in any setting or dj set. I really love the progression of this big tune. These tracks are super fun to mix and they get the dance floor poppin.. 10/10 ⭐️⭐️⭐️⭐️⭐️
DJ BE (Tambor)
: "Def diggin Jesse's latest release Higher. Solid remix package with Demarkus. I will be playing these trax out this summer."